Dinner On-The-Go Ideas: Salad In A Jar
March 4, 2019
This time of year is crazy with kids going every which way with after school and evening activities. Who am I kidding, this is how it is all year long! Soccer practice, play rehearsals, volleyball games, basketball practices, you name it – we are running to all of these events every day. Instead of stopping to grab fast food, we opt to try and bring along dinners from home. So, if your evenings are anything like ours, you are going to want to continue reading! We partnered with Sara Lee® Premium Meats to share five of our favorite dinner on-the-go ideas. A Cobb Salad In A Jar is our absolute favorite at the moment! It is so good, tastes so fresh and it is so easy to whip together.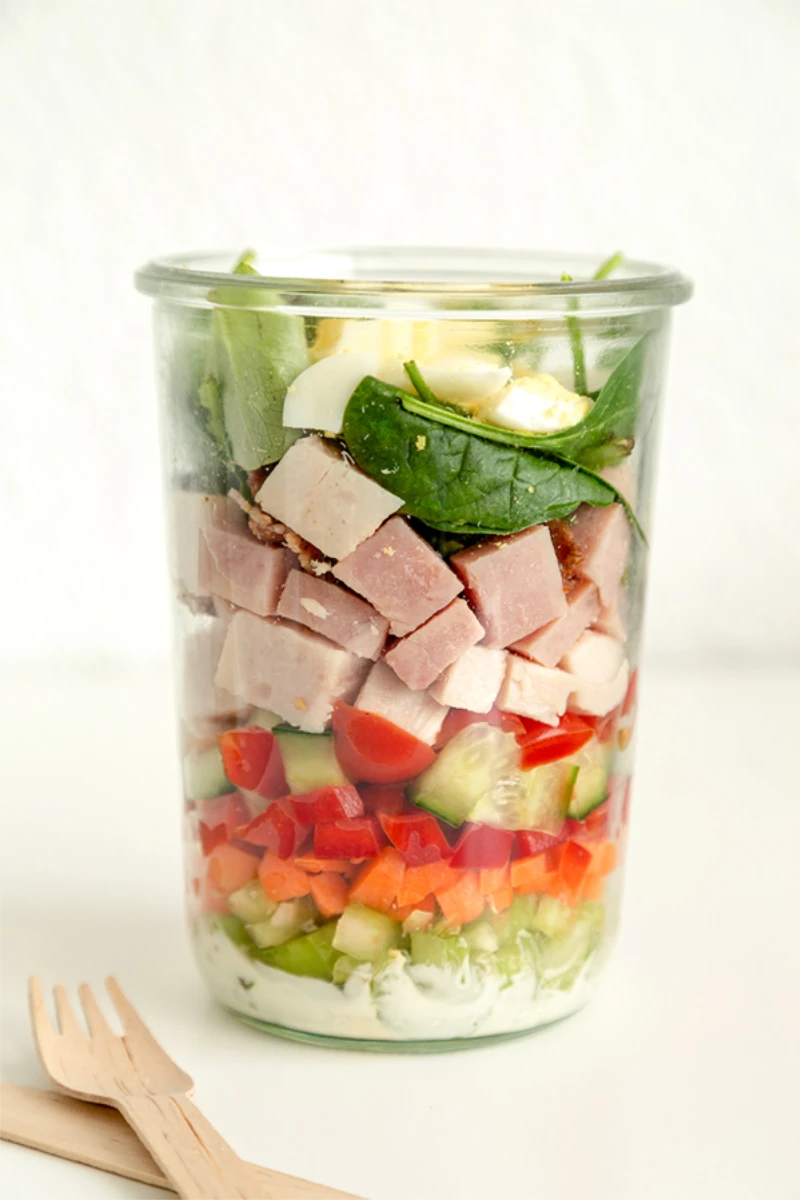 Sara Lee® Premium Meats is our go-to resource for quality deli meats that we can feel good about feeding our family. These deli meats are a perfect way to add protein to meals without all the fuss. All of our dinner on-the-go ideas have Sara Lee® Premium Meats in them.
Salads in a jar are so popular right now. You have probably seen them all over Pinterest and there are so many reasons why. Dinners in a jar are portable, easy to make and easy to eat. These meals in a jar are not just for lunch, we love to use the quart size mason jars to create dinners on-the-go, including a Cobb Salad using Sara Lee® Premium Meats. Here is our recipe for the Cobb Salad In A Jar.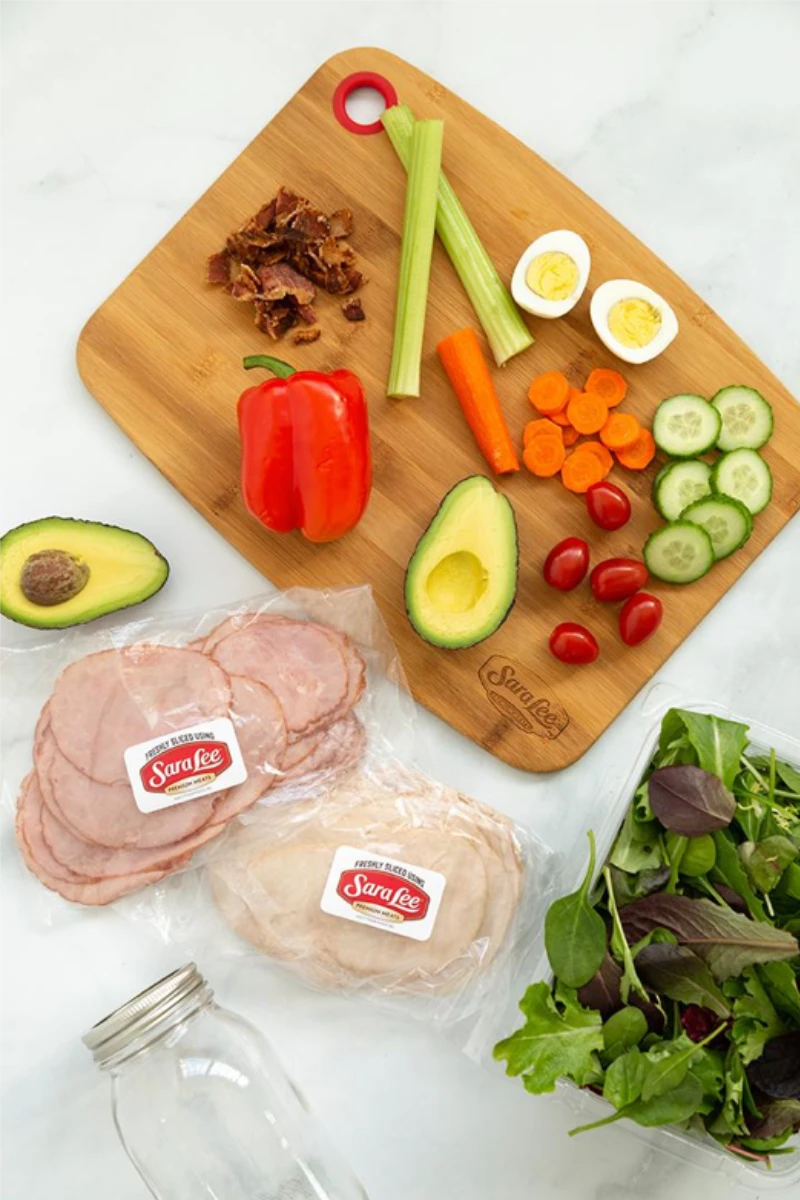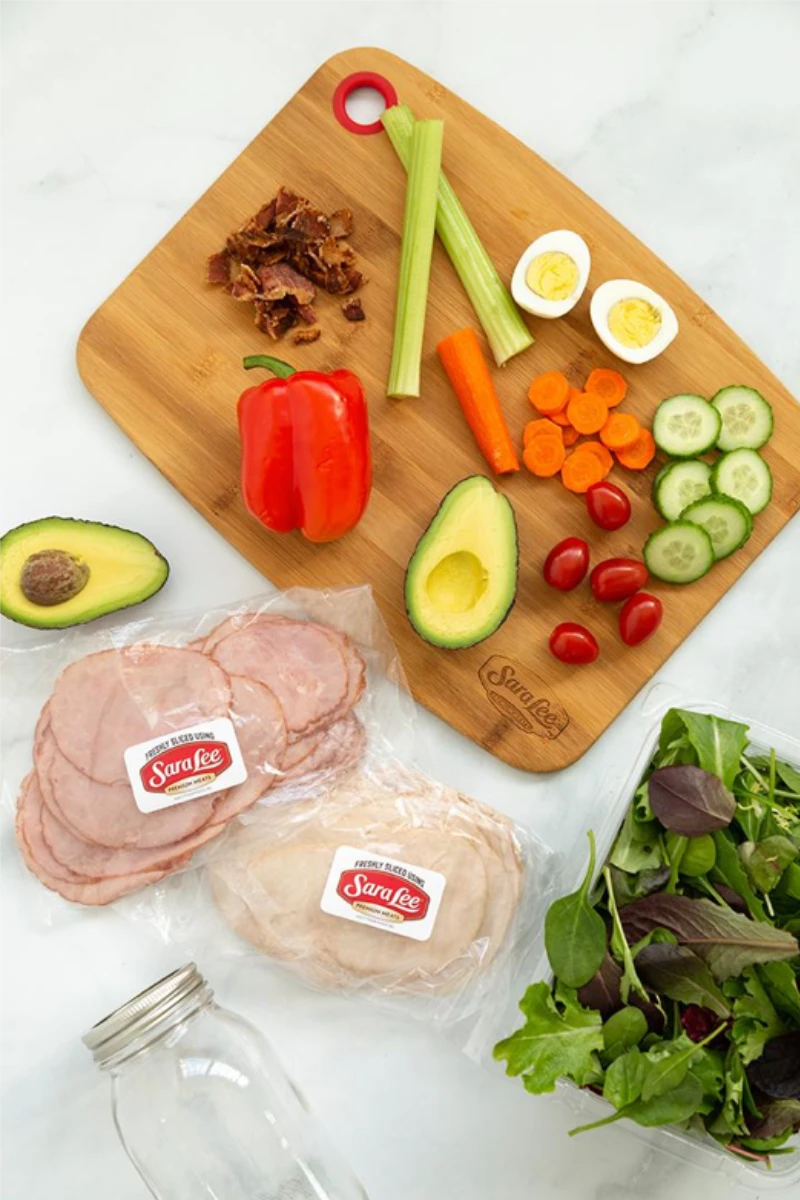 1. Pesto Pasta with Chicken
– Italian dressing, chopped artichoke, cucumber, red peppers, pesto pasta,
Sara Lee® Oven Roasted Chicken,
mixed greens, parmesan and mozzarella cheese.
What you need
Mixed greens (2 handfuls)
Ranch dressing (or dressing of choice)
Shredded cheese (optional)
How to Make it
1.
Pour the salad dressing into the jar.
2.
Start layering to create the salad.
3.
Add the chopped celery, carrots, cucumbers and tomatoes.
4.
Add the Sara Lee® Oven Roasted Turkey Breast and Sara Lee® Honey Ham. This adds excellent protein to the dinner salad.
5.
Now add the mixed greens. Then the avocado, egg and cheese. Add the lid and place in the fridge.
6.
Shake the jar to combine the ingredients and salad dressing. Unscrew the top and dig in! You can eat them straight from the jar or toss in a bowl
---
---