Greek Chicken Gyros
March 4, 2019
Quick and easy Greek Chicken Gyros with Tzatziki Sauce and Cherries. Fresh red onions, bell peppers, feta cheese, mixed greens and flavorful
Sara Lee® Oven Roasted Chicken Breast
wrapped in pita bread with Greek tzatziki sauce. This Greek wrap features simple ingredients that can be put together within minutes. Make for lunch or dinner on the go.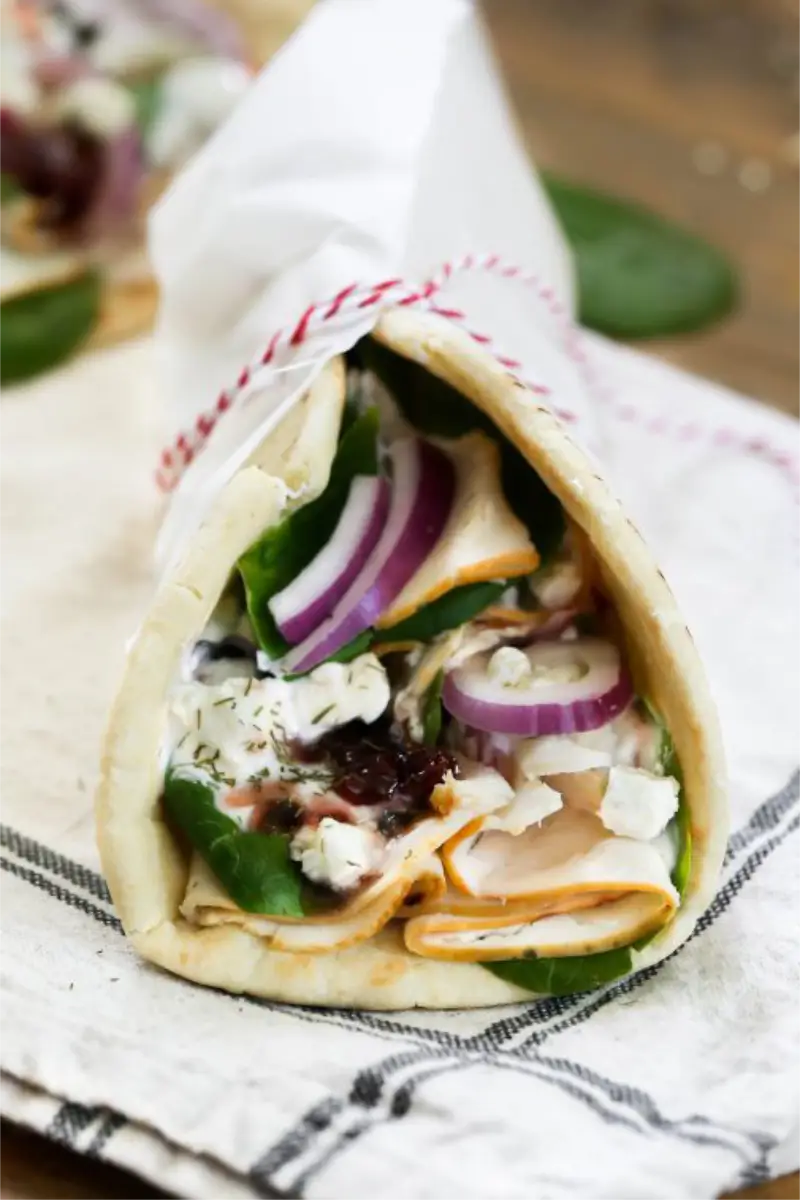 Our family loves Chicken Gyros. Lately, I've been making easy on-the-go recipes with a variety of Sara Lee® Premium Meats. I've been using this Chicken Gyro recipe for the past couple years and it's my go-to recipe that never fails. It features an easy tzatziki sauce that's paired with cherry jam. The combination is one for the books!
What I love about this gyro recipe is that it only takes 10 minutes to make. I need quick and easy recipes, especially when I need to eat on the go. I always use fresh ingredients like red onions, cucumbers, mixed greens, bell peppers, feta cheese, and
Sara Lee® Oven Roasted Chicken Breast
in this pita wrap for the best flavor.
A delicious and easy way to jazz up a sandwich is to add flavor. I start by using the most flavorful deli meat. Then, I pair it with a fresh array of vegetables and sauces. I love the flavor combination of
Sara Lee® Oven Roasted Chicken Breast
with a tangy four ingredient homemade Greek tzatziki sauce. A simple glaze of cherry preserves adds a rich flavor to the pita wrap that will transform your taste buds.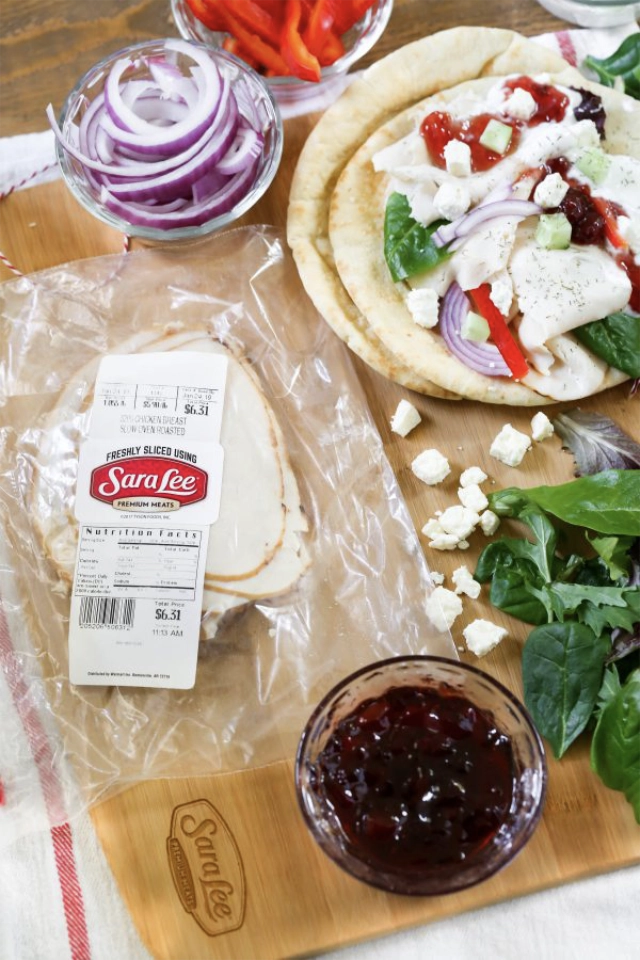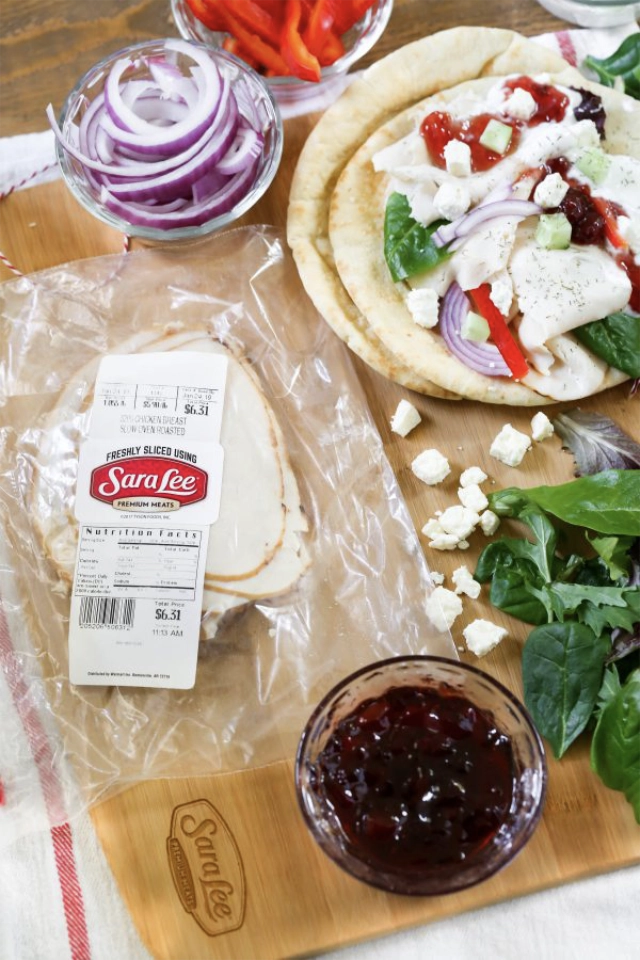 There are days where I just can't bring last night's leftovers back to life and I don't have the time to prepare and cook for an hour or two. It's perfect for days like today where I'm busy with family obligations. The gyros can be made in advance and transported to after-school sporting events, school meetings, work lunch or any other activity that has you on the go.
For a quick on the go recipe, try these Greek Chicken Gyros. This meaty pita wrap takes less than 10 minutes to make. Wrap them in parchment paper and take them with you for a quick dinner or lunch recipe on the go.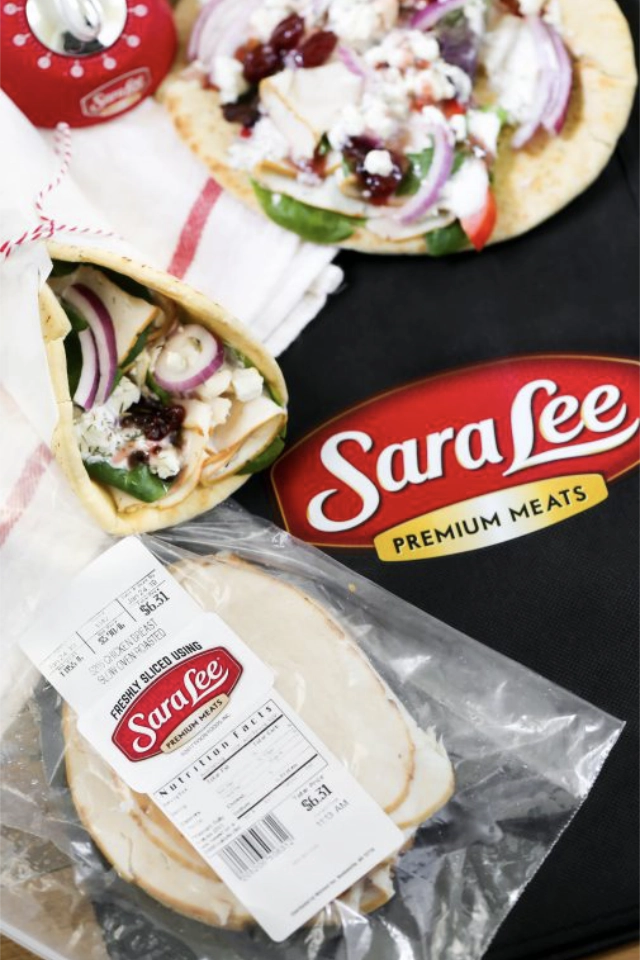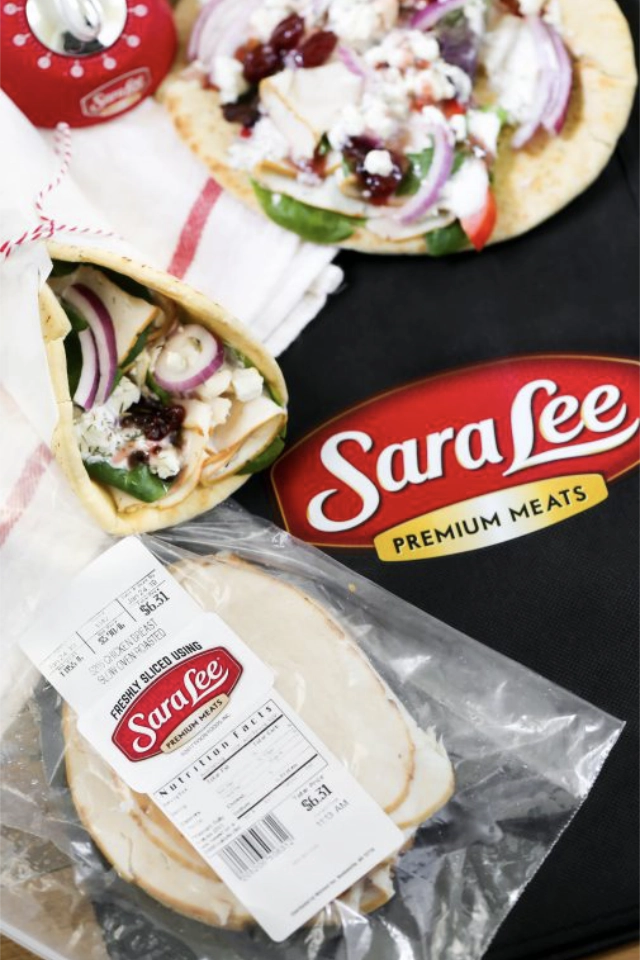 Sara Lee® Premium Meats is my go-to affordable premium quality deli meat behind the deli counter. In fact, you'll find a variety of their premium, high-quality cut of meats have a delicious fresh taste. I always pick up a few freshly-sliced, quality flavors to include with lunch. Plus, everything for this recipe can be purchased in one stop from your local grocer, which makes it super convenient to grab the ingredients on your way home from running errands.
For other on the go recipes using Sara Lee® Premium Meats, I like to make these Easy French Dip Sliders ahead of time then reheat them before heading out. Of course, this Cheddar Jalapeno Ham Cornbread is my favorite to pack, as well as these Ham and Cheese Pinwheels.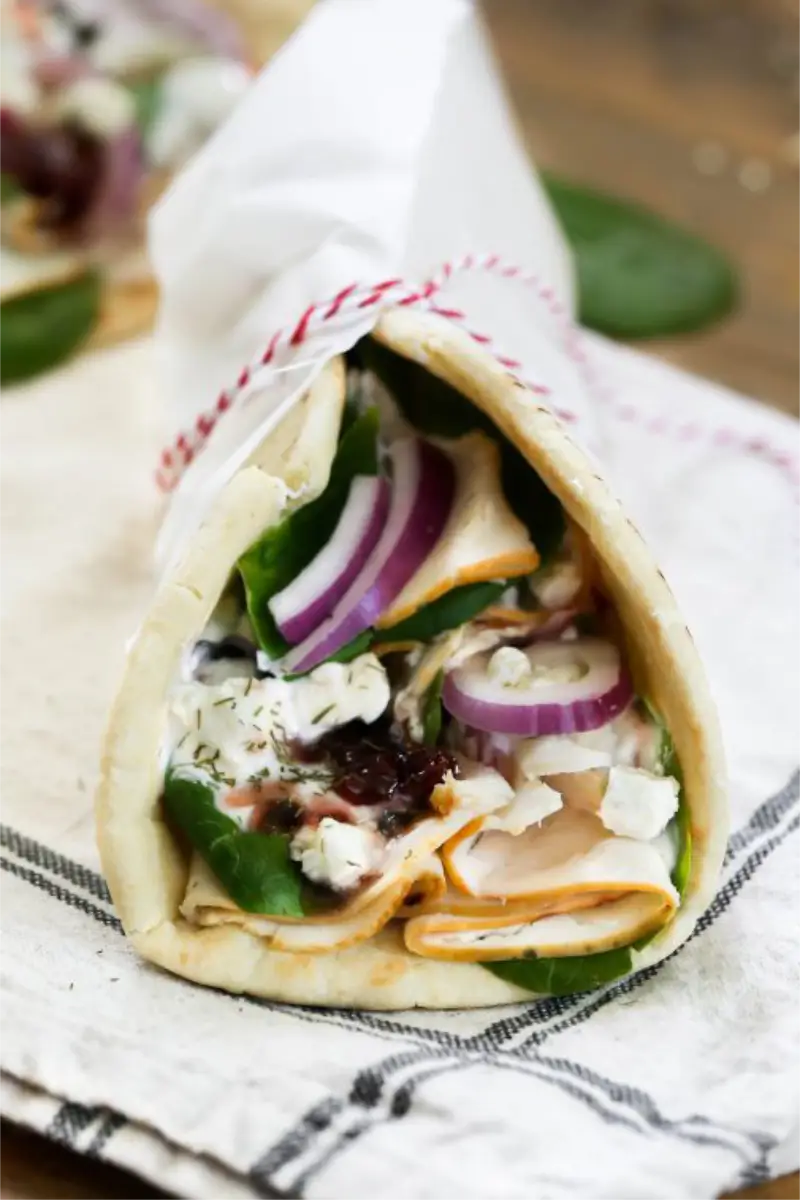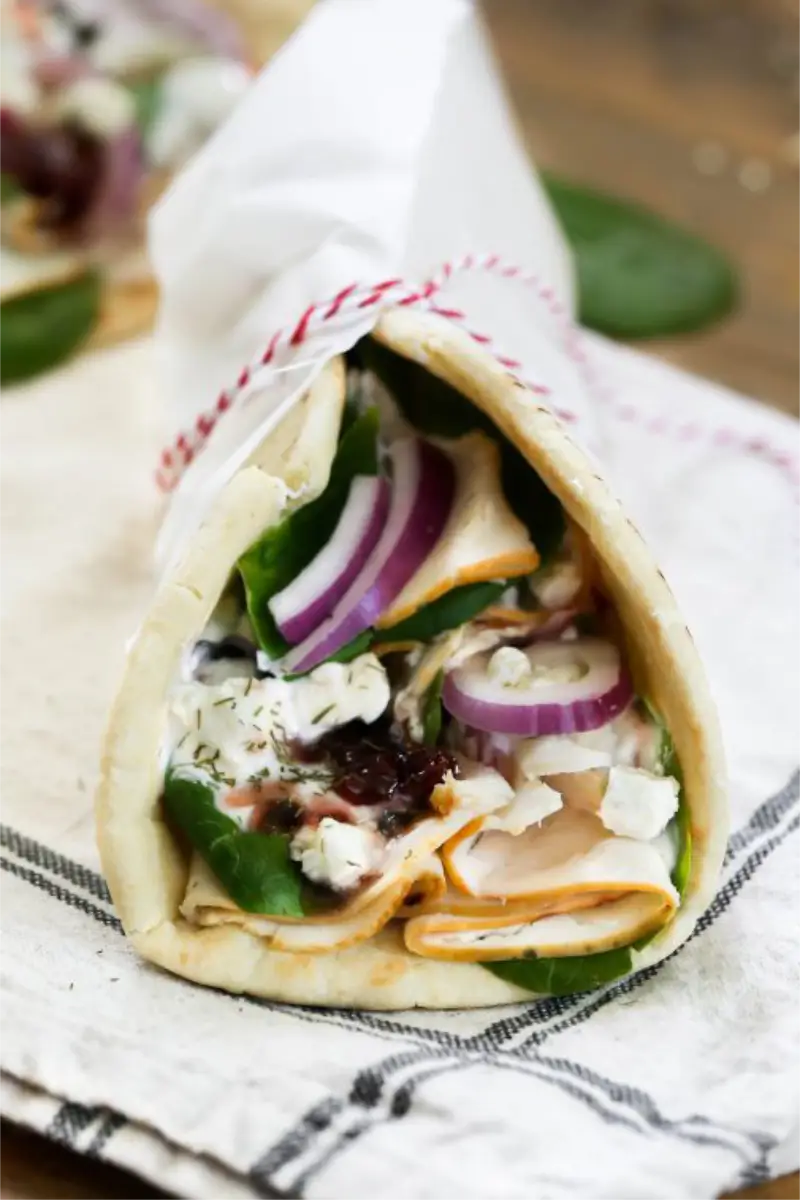 I buy a variety of Sara Lee® Premium Meats to use in easy weeknight dinner recipes. Their product line is varied and it's convenient for our busy family. I love to pair each one with fresh vegetables, herbs, and a fresh sauce. With a variety of fresh products, it's easy to add them to our dinner menu for a quick meal.
Skip the fast food lanes and make your own hearty pita sandwich in less than 10 minutes with healthy, fresh ingredients.
What you need
1 medium red onion, sliced.
1 red bell pepper, seeds removed, sliced.
1/2 cup plain Greek yogurt.
1/4 cup cucumber, peeled, seeded, diced.
1/2 tsp. fresh or dried dill.
1/2 tsp. fresh lemon juice.
1/3 cup cherry preserves.
How to Make it
1.
In a small food processor, combine Greek yogurt, diced cucumber, dill, and lemon juice. Process until well combined.
2.
Lay pita bread out. Top with Sara Lee® Oven Roasted Chicken Breast slices. Add a few slices of red onions, and bell pepper to each bread piece. Top with mixed greens and feta cheese.
3.
Drizzle with tzatziki sauce and cherry preserves.
4.
Wrap pita bread in foil, or parchment paper, and secure with twine.
---
---