Hawaiian Pizza Stuffed Mushrooms
January 6, 2019
If you're married to a football fanatic like I am, you have February 3rd marked off on the calendar for the Big Game. While I'm not glued to the game, I will say I look forward to the snacking regardless of which team plays. Whether you're tagging along just cause or cheering in full swag I love to make food for everyone to enjoy. This year I really wanted to go the extra mile and make something out of the box.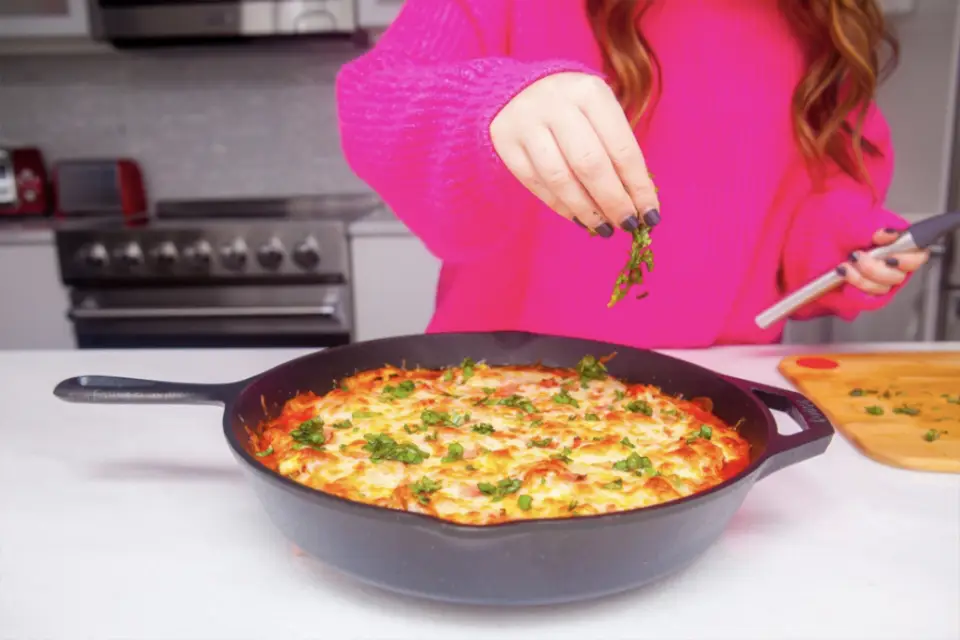 I was looking for inspiration at the deli counter when the glaze of the
Sara Lee® Honey ham
caught my eye. We're practically never without Sara Lee meats so I know I can always count on quality when I use it in my recipes. As you know, I love to get creative so I decided to create insanely delicious and healthier (but you'd never know) Hawaiian Pizza Stuffed Mushrooms using
Sara Lee® Honey Ham.
This is a one pan recipe so it's quick and easy to make, which is always a win.
What you need
24 ounces of whole white mushrooms (you could also use baby bellas or whatever you like best).
1 bag of shredded mozzarella cheese.
1 jar of your favorite marinara sauce.
How to Make it
1.
Preheat the oven to 375. Dice the pineapple and green pepper, set aside.
2.
Remove the stems of the mushrooms and arrange them tightly in a cast iron skillet.
3.
Dice the 1/4 lb. of Sara Lee® Honey Ham (put a tablespoon to the side to top dish). Mix the diced green pepper, pineapple, and ham for your filling.
4.
Place the filling into the mushroom caps.
5.
Once mushrooms are filled, pour a jar of your favorite marinara sauce into the skillet and top with shredded mozzarella cheese. Place remaining diced Sara Lee Honey Ham on top.
6.
Place skillet into the oven and bake for about 20 minutes then broil for 3 minuted or until slightly brown.
7.
Remove from oven, top with fresh basil & serve. YUM
---
---