Raspberry Brie Turkey Grilled Flatbread
May 8, 2019
A light and refreshing summer grilled flatbread with warm turkey, melted brie cheese, grilled peaches, and raspberries. This Raspberry Brie Turkey Grilled Flatbread is topped with an easy balsamic vinegar reduction. It's heating up outside and it's the perfect time to grill outdoors. Grilled flatbread the ultimate way to cook a light dinner in just a few minutes. Summer is fastly approaching and that means it's time to fire up the grill and host a get together with friends and family. This refreshing summer flatbread is perfect for potlucks, graduation parties, summer holidays, as well as for lunch and dinner. This time of year, I prefer to use the grill as my method of cooking. I love the chargrilled taste of bread with warm Sara Lee® Premium Meats, melted brie cheese, grilled peaches, and raspberries and can't think of a better way to celebrate the warm weather outside.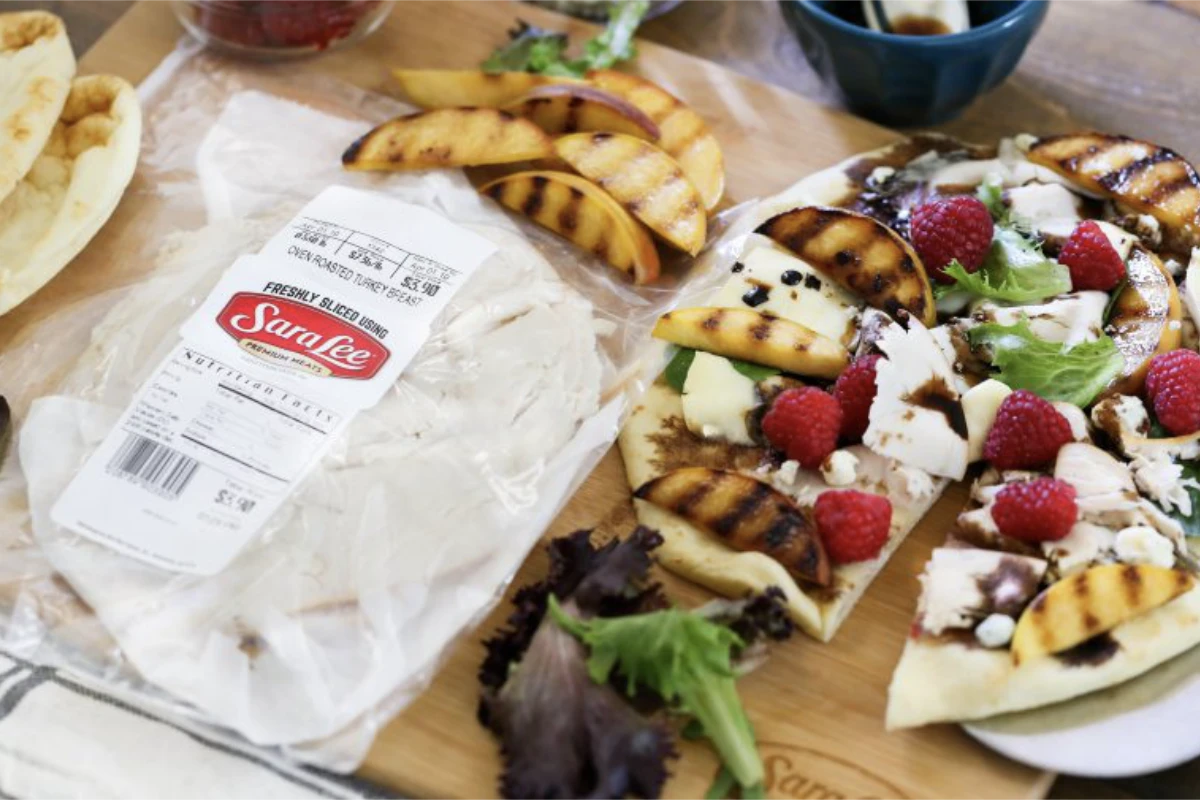 Summer is my favorite season and with good reason. I can't get enough fresh fruit and vegetables from the farmer's market. Maybe it's the cookouts with friends or picnics at the beach. Maybe it's the lighter menu for lunch and dinner. One thing I know for sure is that my fridge is stocked with fresh produce and Sara Lee® Premium Meats for meals that usually take 20 minutes or less to make.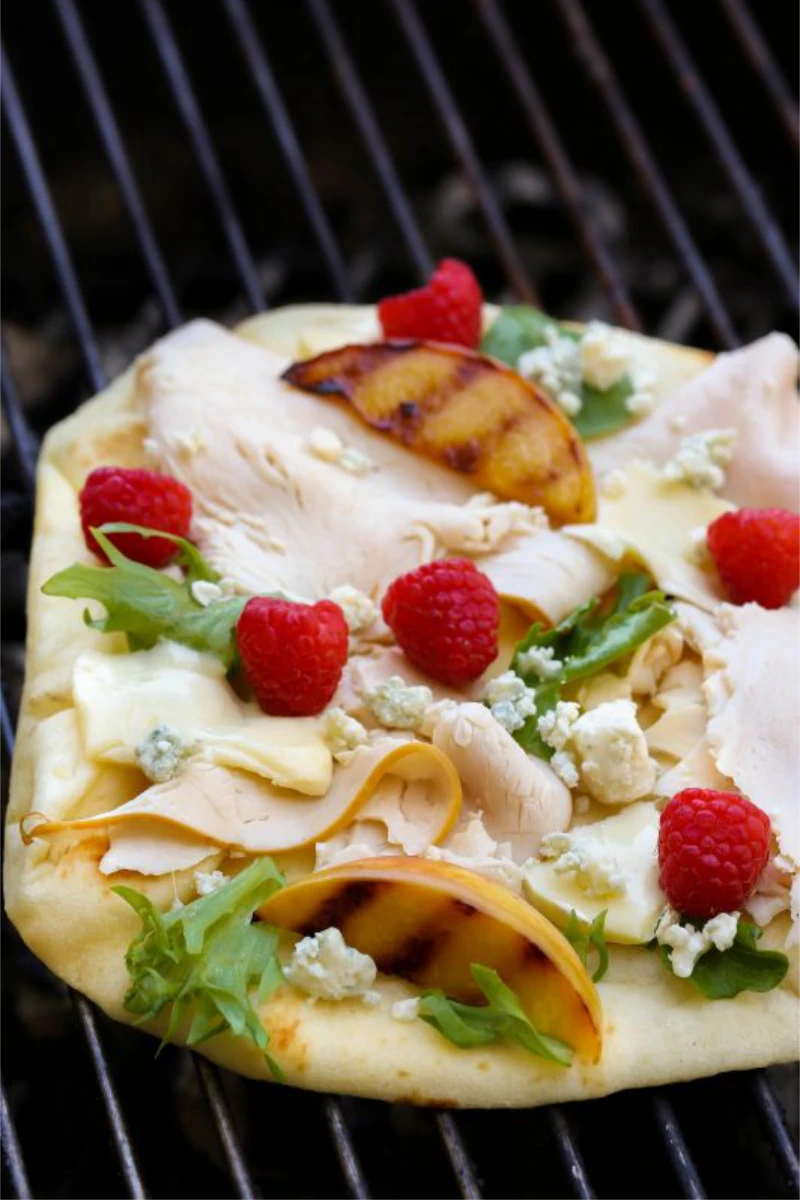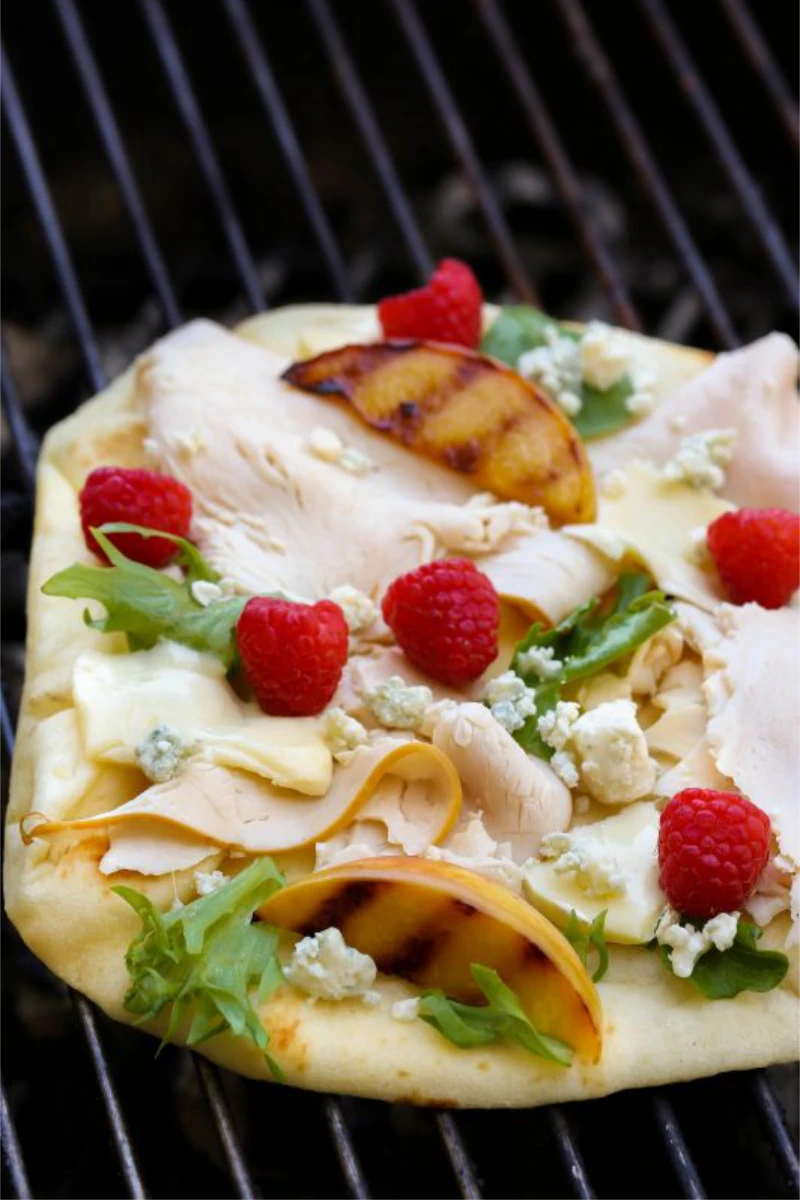 Grilled flatbread loaded with fresh fruit, vegetables, and meat is one of the summers must have meals. A refreshing summer meal deserves bragging rights, and this easy dish is no exception. This dish has been a favorite in my house for many, many years. Summer wouldn't be complete without a hearty flatbread full of fresh flavors and bright colors!
What you need
8oz flatbread (about 2 slices).
How to Make it
2.
Spread out flatbreads. Evenly divide Sara Lee® Oven Roasted Turkey Breast, mixed greens, brie cheese, gorgonzola, and raspberries between the two pieces of flatbread.
3.
Slice peaches; set aside.
4.
In a small saucepan set over medium heat, pour in balsamic vinegar. Allow the vinegar to come to a boil then reduce heat slightly. Whisk mixture frequently until thick, about 7-9 minutes total.
5.
Once the grill is set, add the flatbreads. Grill for a few minutes.
6.
Grill peaches on each side then add to flatbread.
7.
Drizzle balsamic vinegar reduction over the top of the flatbreads.
---
---