Sweet and Spicy Sandwich Meal Board
August 4, 2021
Whether you're hosting a small summer gathering, or just looking for ways to keep summer lunches exciting, I'm sharing an easy and delicious idea for a sandwich buffet today.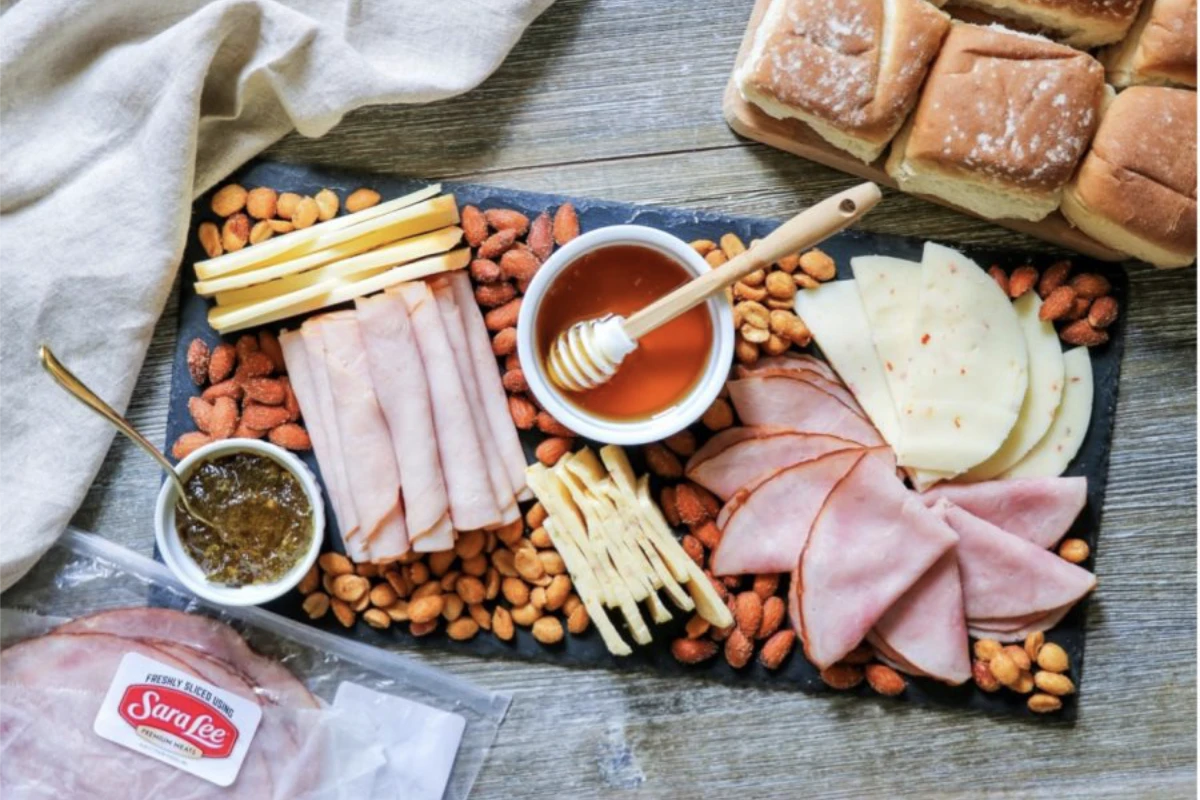 This is a sweet and spicy-themed sandwich meal board (essentially a "make your own sandwich" lunch board) with delicious Sara Lee® Premium Meats complemented by some sweet and spicy cheeses, sauces, and snacks. You can find Sara Lee® Premium Meats at your grocery store deli counter, and I recommend always keeping some on hand. Not just for DIY sandwich platters, Sara Lee® Premium Meats are a great easy solution for adding more protein to your breakfast, for summer snacking, and even dinner recipes. Be sure to check out your store's selection the next time you shop, and pick up a few different kinds. If you're looking for sandwich bar ideas, here are my tips for making this sweet and spicy meal board for lunch.
What you need
A stone, wood, or plastic board.
Two to three sweet and spicy cheeses (such as apple-smoked Cheddar, pepper Jack, or any cheeses with chilis).
Sweet and spicy sauces and spreads (honey and jalapeno jam are ideal).
Sweet and spicy nuts (honey roasted peanuts, spicy BBQ flavored almonds, etc.).
Bread rolls (Sara Lee® Artesano Bakery Rolls are a great choice).
How to Make it
1.
Add your meat on the sandwich meal board so that you can arrange the other sandwich fixings and snacks around them. I decided to roll the Sara Lee® Oven Roasted Turkey Breast pieces for easy grabbing, then, I folded the Sara Lee® Honey Ham into quarters and fanned them out decoratively.
2.
Add your cheeses to the make your own sandwich tray. Slice cheese from a wheel into semi circles so that it matched the shape of the ham, then fanned it at the top so that the meat and cheese combination had a floral shape on the sandwich board. Other cheeses were sliced then separated in an alternating pattern for easy grabbing.
3.
Dress the sandwiches,included a few sweet and spicy sauces guest to choose from on the sandwich buffet. Honey complements the sweetness of the ham and the kick from the pepper cheese, and a jalapeno jam tastes great with turkey and a white Cheddar cheese, but guests can have fun mixing and matching their sandwich flavors.
4.
Fill any gaps on the lunch board, add an assortment of sweet and spicy nuts to the tray for a great snacking side for the sandwiches.
---
---